Quality Control
On another job site, Brasfield & Gorrie used project design plan overlays with their CAD drawings to verify work done on a handicap-accessible ramp. Only 10-12 hours before the concrete pour, they discovered that as-designed was different than as-built, saving a potential $10,000-plus in rework costs.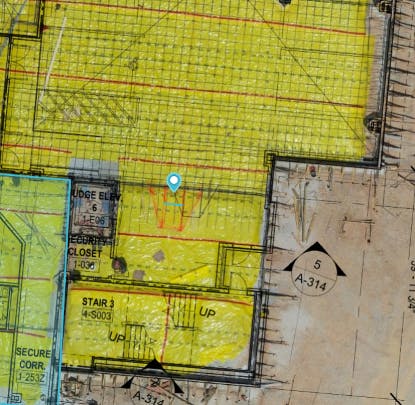 DroneDeploy's PlanGrid integration helps Brasfield & Gorrie team members when reviewing data or processing requests for information. Since the entire company uses PlanGrid, workers can annotate maps, add teammates, and share projects with customers or owners in-app. Frequently, Brasfield & Gorrie uses the integration to layer DroneDeploy's maps as base plans and measure against design files. Together this integration saves the team countless hours locating information and brings context to every job.
Continued Growth
Brasfield & Gorrie's streamlined process requires images to be captured starting on the first day on-site and taken throughout the entire construction process. In the future, the team hopes to see a world where drones are entirely autonomous, flying jobs with minimal instruction so that workers can focus more on communication, issue resolution, and validation—and less on data capture. Until then, they're continuing to use drone data and 360 videos and photos to monitor site progress, share information with stakeholders, and validate their team's or trade contractors' work. Brasfield & Gorrie has a diverse portfolio of active jobs, and the technology they leverage must be flexible to meet those varied needs.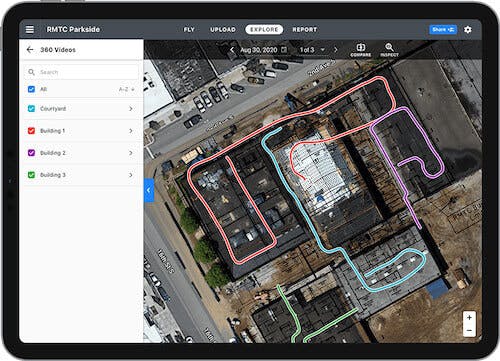 In 2020 so far, Brasfield & Gorrie sees more demand for drone data and an increase in individual pilots, with over 1,900 drone flights. Comparatively, they flew a total of 1,400 in 2019.